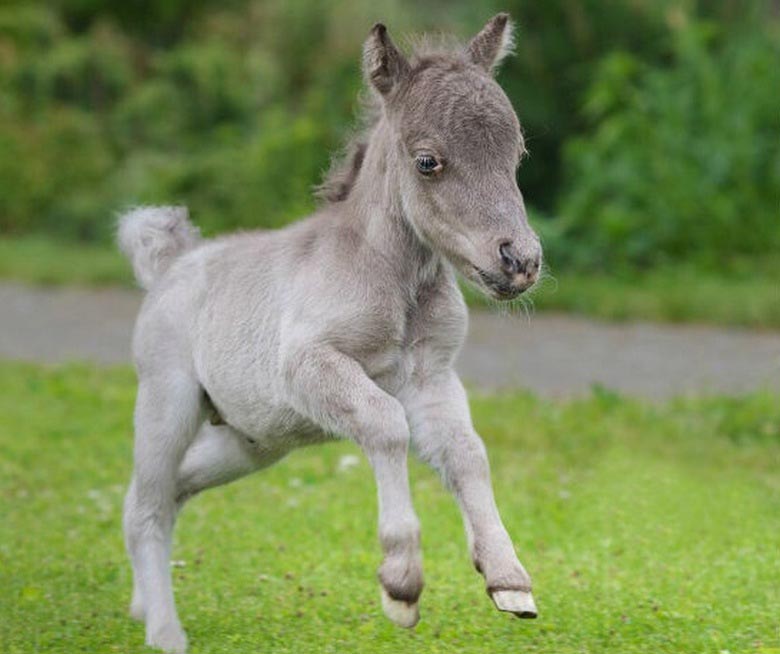 The smallest foal in the world appeared at the end of June of this year.
in the Leningrad Region on the Hidalgo Pony Farm, which is located in
Village Skotnoe – Agalatovskoye rural settlement. Baby name
got quite funny – Gulliver.
Gulliver is half the size of all other pony foals. it
A unique case for the whole world, since neither in America nor in
Europe and Asia have never had such tiny horses
for the foal of the Hidalgo farm is the size of a cat, and this
unique dwarf has no physical abnormalities or
flaws. This is what the director of a pony farm says about this.
Elena Chistyakova:
Foals dwarfs are sometimes born in ponies, for example, in
The USA even specially cultivated super-small horses. But,
unfortunately, they all end up with physical defects. And our
Gulliver is unique in this respect: he is super-small and without any
physical and mental abnormalities. He is very clever, brave and with
this is such a manual – just darling. Our little horses we
use for therapeutic beneficial effects on
sick children. Ponies undergo special medical training, and
then we go with them in children's hospitals and rehabilitation
centers, orphanages and boarding schools, and, you know, it really helps
children, because it gives them a charge of energy, joy and gives a piece
real happiness. But Gulliver is a special case …
Specify that Gulliver has a height at the withers 30 centimeters, and weighs
only 3 kilograms. At the same time, his parents are the most normal.
pony. Such a fantastic case on the Hidalgo pony farm.
occurred for the first time in twelve years of its existence.
Gulliver himself, one might say, has already become a media persona, he with
pleasure to participate in photo shoots, not at all afraid of cameras and
lamp flashes. Farm employees are hoping that their unique
the foal will definitely fall into the famous Book of Records
Guinness.