Spring signs help predict future weather changes, find out what to expect in summer and this year's yield. By focusing on the flowering of plants, the behavior of animals, you can not only find out the weather for the coming days, but also grow a wonderful harvest.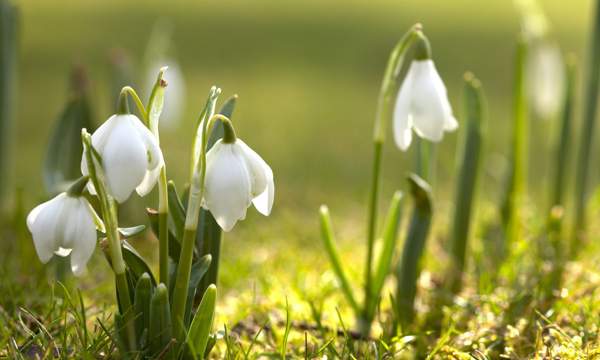 Early spring indicates a rainy summer
Signs about the weather in spring
Signs about spring are easy to recognize by the weather:
Thunder in early March is a sure sign of an imminent drop in temperature.
Long icicles symbolize the lingering spring.
Early spring indicates a rainy summer.
Clouds float very slowly and high – warming in the coming days.
The visible ring around the moon is towards the winds.
Lightning without thunder the first weeks of spring – to a dry summer.
If there was no precipitation in March, April turned out to be damp, and May was cold – expect a good harvest of bread.
Spring signs about nature
Animal behavior also helps to identify signs of spring and anticipate imminent weather changes:
if the rooks or larks arrived early, the spring will be warm;
a large amount of cobweb indicates a hot summer;
birds making their nests on the sunny side symbolize the cold summer months;
low flying swallows – to fast rains;
dandelions blooming in early spring – by early autumn;
when migratory birds fly home in large flocks – wait for a warm spring;
birch gives a lot of sap – a sign of frequent summer rains.
To meet a white hare in March means snow will soon fall, and many mice indicate a poor harvest of the year.
Folk omens by month
For a more detailed interpretation of the spring, it is important to pay attention to the month of the season. In March, to determine the future harvest and weather conditions, you need to closely monitor the changes in the weather:
Summer will be cold and short when the snow melts on the south side of the anthill.
A rainy month means a bad harvest.
Regular fogs lead to frequent precipitation.
Heavy snow falling in a March blizzard melts quickly – towards a wet and cold summer.
Rare frosts – for a good harvest.
Frequent fogs and constant rains are a sure sign of bad weather in summer.
Icicles in March – by a long spring.
A smooth surface of snow – to a weak harvest, rough – to a rich one.
In the first thunder of March, the wind direction will help to determine the weather for the spring:
northern – lingering and cold;
east – warm and without precipitation;
southern – hot and long.
If the first days of April are crowned with rainy weather, expect a large number of mushrooms, and a thunderstorm these days portends a wonderful harvest of nuts. According to well-known signs, the absence of swallows indicates a cold and prolonged spring, and birches, which give a lot of sap, are a sign of showers in the summer. A widespread superstition in April is that there will be a large flood once a crow has built its nest high in a tree.
It is easy to determine the yield of the year by May weather:
Frequent cold weather – to the harvest of bread.
Regular rains mean a rich harvest.
Foggy, cool month – to dry June and the death of the harvest.
May hail – to frequent precipitation in summer and a poor harvest.
If in May you see a lot of beetles, expect a drought, and a blossoming birch indicates that bird cherry and lilacs will bloom within a week.
Folk beliefs by day
March
1 – a sunny day without precipitation – by a warm spring, snow – to a rich harvest, wind – to a cold, rainy summer;
2 – high floating clouds – to a hot day without precipitation;
3 – stars are faintly visible in the sky at night – to a strong wind;
4 – snow drifts – to prolonged cold weather;
5 – jackdaws or rooks hovering high in the sky – towards the snow in the coming days;
6 – dry air – to early warming;
7 – arrived swallows – a sign of a warm spring;
8 – snowfall on this day – by cold spring, lack of precipitation – by warm spring months;
9 – snowy day – to frequent snow in April;
10 – to hear the croaking of crows – to frequent spring rains;
11 – the south wind and the singing of the tit – to the imminent improvement of the weather;
12 – drops – for a hot summer;
13 – rain – to a damp summer;
14 – what the weather will be on this day, so will the summer;
15 – blizzard and strong winds – by late spring;
16 – a sparrow sorts out feathers – to an increase in temperature;
17 – rooks returned to their old nests – by a warm and long spring;
18 – crows scream towards the north – towards severe cold weather;
19 – cries of a flock of crows – to a sharp deterioration in the weather;
20 – red sky at sunset – to strong winds;
21 – the return of larks – to warm spring days;
22 – a warm day is a harbinger of a warm month, a cold snap is a sign of prolonged frosts;
23 – sparrows gather in flocks and cuddle – to bad weather;
24 – annoying cries of crows – to a sharp cold snap or heavy precipitation;
25 – rain on this day portends a good harvest of rye;
26 – loud cries of jackdaws – to a clear day;
27 – melting snow and sun – to a rich harvest, rains – to a dry summer;
28 – arrived seagulls – to imminent warming;
29 – a warm day symbolizes a warm spring;
30 – a crane arriving indicates a warm spring;
31 – there are practically no stars in the sky at night – to imminent downpours.
April
1 – starless sky – warming;
2 – no frost on this day – by hot and early summer;
3 – bright sun – good weather for the next week;
4 – the sun in a red glow at dawn – to a rich vegetable harvest;
5 – the first spring thunder with lying snow – towards a cold summer;
6 – singing of a lark – to warming, and chaffinch – to severe cold;
7 – the appearance of mushrooms in lowlands – to drought, on highlands – to frequent summer rains;
8 – what the weather will be on that day, so it will be in early October;
9 – daytime rooster crowing – to showers in 3-4 days;
10 – the red sun hides in the clouds – to rainy weather;
11 – fast moving clouds in the sky – to warmth;
12 – if the geese are flying high – wait until the end of spring for frequent rains, low – there will be little precipitation;
13 – drizzling morning rain – to a wet summer;
14 – frequent dull peals of thunder – a sign of clear and warm weather in the coming week;
15 – if the river is overflowing – expect early mowing;
16 – sharp, prolonged peals of thunder during a thunderstorm – to prolonged cold snaps and strong winds;
17 – heavy rain clouds slowly float across the sky – to long rains;
18 – warm day and cool night – to prolonged heat;
19 – calm weather – for an early harvest of spring crops;
20 – starry sky – to the harvest of mushrooms and berries;
21 – the sun – by early summer;
22 – fog and wind – for a good harvest;
23 – the sun is covered with a misty haze – bread will be born;
24 – the sky is completely covered with clouds – to pouring rain;
25 – cumulus clouds – to the evening rain;
26 – yellow primroses have blossomed – to prolonged warming;
27 – calm, cloudy weather – by a clear day;
28 – continuous wind from the south – to rains;
29 – west wind – towards cooling and precipitation;
30 – a decrease in temperature and a southwestern wind – to prolonged downpours.
May
1 – warm weather on the first day of May – a sign of sudden cold snaps at the end of the month;
2 – birch leaves a leaf much earlier than maple – summer will be dry;
3 – after the rain, lightning is visible, but no thunder is heard – towards clear, warm days;
4 – bird cherry blossomed – for a dry and hot summer;
5 – thunderstorm – to a good harvest;
6 – red dawn in the evening – to worsening weather;
7 – evening dawn of a yellow hue – the next day will be without precipitation;
8 – a bright and high rainbow – to warming, low, weakly expressed – to precipitation and cooling;
9 – strong morning wind, which weakens towards evening, indicates prolonged warm weather without rain;
10 – the sun has risen in a cloudless sky – to frequent winds in the summer;
11 – bright starry twinkling at dawn – to imminent rains;
12 – strong wind – to showers;
13 – starry sky and warmth – to a rich harvest;
14 – rains and low temperatures – to a long, frosty winter;
15 – nightingale singing at night – to the sun the next day;
16 – bird cherry blossomed – to a damp summer;
17 – pale sun – to prolonged bad weather;
18 – large clouds moving northward – to showers;
19 – clear weather and abundant dew – for a good harvest of cucumbers;
20 – rainbow in the evening – to a warm day, in the morning – to rain;
21 – flowering acacia does not emit an aroma – to drought;
22 – precipitation throughout the day – to the harvest of bread;
23 – showers on this day – for a rainy summer;
24 – crimson sunrise – hot summer with occasional rains;
25 – if the seagulls do not fly far from the shore, expect a prolonged cold snap;
26 – seagulls fly low above the ground – to imminent rain;
27 – the arrival of swifts or swallows on this day marks prolonged heat;
28 – warm weather – for a hot summer;
29 – cumulus clouds floating quickly across the sky – to dry weather;
30 – north wind – to frequent cold weather next season;
31 – a pale moon symbolizes imminent rains, and a bright one indicates clear, dry weather.
Sudden changes in weather and behavior unusual for animals will always help you predict imminent changes in the weather and determine when to sow or leave.