A photo from open sources
What do you think the inventor looks like? Adult man having a higher education or academic degree, or at least a huge practical experience? Not at all necessary. In search of nontrivial decisions the children's mind is in no way inferior to the adult. And sometimes superior to him.
The age of invention is not a hindrance!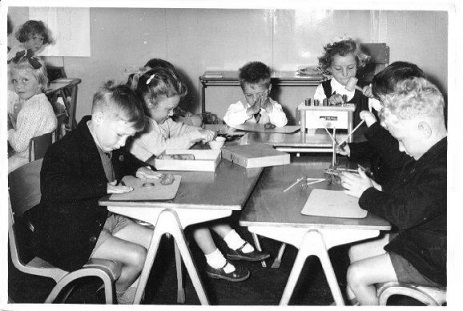 A photo from open sources
A schoolgirl came up with a child's plasticine so familiar to us. Firm Cleo McVicker produced a wallpaper cleanser. Granddaughter Cleo advised making a toy out of a cleaning product. Seized cleaning components, added dyes, almond oil – and got plasticine.
A photo from open sources
One of the founding fathers of the United States, Benjamin Franklin, aged 11 years came up with flippers. He is also listed as a rocking chair and designation of polarity of electric batteries "+" and "-". Afterwards Franklin became a politician and abandoned invention. It's a pity!
A photo from open sources
In 1926 he won the Alaska State Flag Competition project of 13-year-old Benny Benson.
A photo from open sources
In 1930, the 16-year-old George Nissen in the parent's garage assembled the first trampoline in the world.
A photo from open sources
In 1905, I came up with our favorite ice cream on a stick 11-year-old American Frank Epperson.
13-year-old Moscow student Dima Reznikov designed a toothbrush for astronauts.
A photo from open sources
13-year-old Mallory Cuvman invented a remedy for hiccups.
But do not think that young geniuses are able to invent only "trifles". Some inventions required serious scientific and technical knowledge, and proved to be very useful for of humanity
Serious Inventions
A photo from open sources
Braille, allowing the blind to read, was invented by 15-year-old Louis Braille.
A photo from open sources
In 1923, 16-year-old Canadian Joseph Bombardier put on a sled motor and drove on this hybrid through the streets of his hometown. It was the first snowmobile in the world that Bombardier releases to this day day.
Philo Farnsworth introduced 1920 at the age of 14 long distance image transmission project through electrical impulse, and thereby became one of the founders modern television.
A photo from open sources
15-year-old Filipino Angelo Casimir turned his sneakers into electric generator. Now Angelo playing basketball at the same time charging your cell phone.
A photo from open sources
12-year-old Lviv Maxim Lem designed a robot, able to scan the room, measure its area and send data to a computer using a radio signal. Now BTI engineers face massive downsizing.
TOP 3
In conclusion, let me introduce you to the top three minors winners.
3rd place.
A photo from open sources
8-year-old Allana Myers loved to ride a bicycle and constantly came home with blood-stained knees that mom constantly bandaged. The procedure for removing bandages was painful. Having cried out 10 l. tears, the girl came up with a tool that makes this the process is painless. The composition of the product includes water, lavender oil and soap.
2nd place.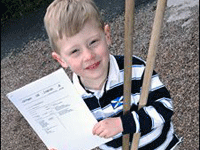 A photo from open sources
6-year-old Robert Patch took out his father: "Buy a car!" – "Which one?" -"Like this" – and the boy drew a truck with a tipping over bodywork. This was not in the store. But dad liked the idea and he patented it by issuing documents for the author.
1st place.
A photo from open sources
5-year-old Briton Sam Huton received a patent for a broom with two nozzles.
Beyond any competition!
All girls love to invent outfits. But 4 year old Mayham Kaiser devotes every free minute to this lesson. Dresses the baby designs and glues from ordinary paper. Her mom takes pictures and uploads pictures to the Internet. Some ideas girls are so original that world models do not consider for themselves shameful to walk along the catwalk in dresses stitched according to the sketches of a 4-year-old designer.
A photo from open sources
Фотоиз открытых источников
Фотоиз открытых источников
Фотоиз открытых источников